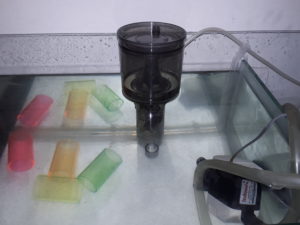 RS-4002 and RS-4003 are the cheapest protein skimmers available in the market, which are manufactured by Risheng Electrical Products Co Ltd in China.
Air pump is a also required additionally for these skimmers to work.
Inside the box contains the skimmer body, collection cup, two rubber suction clip and one wooden air stone. This skimmer is compact and suitable for nano tanks, later wooden air stone would be required as replacement as the wood in salt water will get deteriorate.
RS-4002 is smaller having a size of 9 inches in length and diameter of the collection cup is 3 inches and RS-4003 is 11 inches in length and having a diameter of 4 inches.
For adjusting the airflow for skimming, we can use controller air pump and we can also adjust the height of the inside the aquarium as they are hang on the aquarium type of skimmer.
When we used it for the first time we dint get the desired result as our aquarium was new and so was the water. Later once fish was added and food was
give the skimmer just kicked in. We tried the skimmer in different volume and it just kept skimming. We had to change the wooden air stone after some time.
For all nano tank lovers this one equipment you should consider as small hanging skimmer. It can be used in a sump or can be placed in the display tank. It has a good built quality. In a nano aquarium along with the hang on the back filter or a external filter this protein skimmers would be a perfect match. Not high of budget like other counter parts this skimmer will make it easy on the pocket of a beginner.